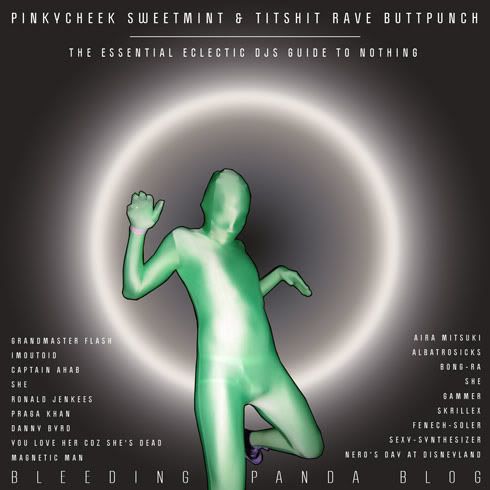 ARTIST`````
Various

ALBUM`````
Pinkycheek Sweetmint & Titshit Rave Buttpunch
GENRE`````
Naive, Nu Rave, Jpop, Kitsch, Dubstep, Drum & Bass, Happy Hardcore, Electro Indie, Dance, Synthesizer
YEAR````````
2010

A Bleeding Panda Compilation!
What
Quite a chaotic selection - I am sure many of you who take music too seriously will be immensely irritated by some tracks here. In short, this is a pile of dance-nerd-rave-core tracks for butt-shaking. I really didn't know how to name the compilation so I just typed in some nice stuff as you can see.

I had a rather sad discovery a month ago - I flipped out on
a Japanese born techno-nerdcore artist
imoutoid. After a few clicks I found out that he suddenly died from heart failure in 2009 (he was only 18 years old). There is not much information about him except some message board comments, a letter from his father and a bunch of pages that get messed up when you translate them with Google translate. Pay attention to his cover of the gorgeous Apex Twin song

4

(get it here) called

HanaHazu*James!! OP "SoAi? 4Seasons"

- shit, how do you pronounce that? There are some links on him here:
http://dis.4chan.org/read/music/1244209724
and also check him out on youtube.

I really wanted to include at least one happy hardcore track on this compilation but after listening for several days to some multiple CDs "Hardcore Anthems" or whatever I found out that that's not my thing. I managed to cut out and rearrange a 1,5 min clip from an artist Gammer - a rather solid rave bang but that's it - I am not going back to that.

Anyways, some excellent fresh artists are here and I will be posting more quick comps like this very soon so stay tuned.

Tracklist:
01

Grandmaster Flash

- Intro (2002)
02

imoutoid

- Motteke! Sailor Fuku (imoutoid's FF6 Remix) (2007)
03

Captain Ahab

- Girls Gone Wild (2006)
04

she

- Music (2008)
05

Ronald Jenkees

- Throwing Fire (2009)
06

Praga Khan

- Rave Alert (1992)
07

Danny Byrd

- Planet Earth (2010)
08

You Love Her Coz She's Dead

- Young Tender Hearts Beat Fast (2009)
09

Nero's Day At Disneyland

- Probably End Up Dead In Ditch Somewhere (2009)
10

Aira Mitsuki

- Beep Count Fantasic (feat. Terukado) (2008)
11

Albatrosicks

- Eternal Voyage (2009)
12

imoutoid

- HanaHazuJames!! OP SoAi 4Seasons (Apex Twin Cover!)
13

Bong-Ra

- Deathsucker Rave (2004)
14

Gammer

- Now It's My Turn (2008)
15

Danny Byrd

- Weird Science (2008)
16

Skrillex

- Scary Monsters And Nice Sprites (Original Mix) (2010)
17

Magnetic Man

- Anthemic (2010)

18

Fenech-Soler

- Lies (Doctor P Dub) (2010)
19

SEXY-SYNTHESIZER

- Space Music (2008)
DOWNLOAD