GATHER IT AROUND: YOU BUILD IT UP TO TEAR IT DOWN. (LYRICS FROM "A STREET SCENE")
ARTIST````BARK PSYCHOSIS
ALBUM````HEX

GENRE````POST ROCK
YEAR``````1994
BAND BIOGRAPHY:

Unfortunately I missed this band (this album) completely throughout my life. As I understood, many, many people also missed this extraordinary masterpiece completely. This album is one of the foundations of post-rock movement and it still is one the finest moments in genre's complex history. Revolutionary, sublime, beautiful and peaceful, it (
embarrassingly?)
shows the ignorance of the music audience and esspecialy - the ignorance of critics.

BAND BIOGRAPHY:
Despite a relatively small recorded output and little media recognition, Bark Psychosis was one of the most innovative artists of their era. From rather uninspired origins as a teenaged
Napalm Death
cover band, the British group evolved by leaps and bounds, moving from moody, lush pop to ambient soundscapes to taut, atmospheric experimental music; their work was so revolutionary, and so impossible to define, that noted critic
Simon Reynolds
even found it necessary to invent a new sub-genre -- "post-rock" -- simply to categorize their vision.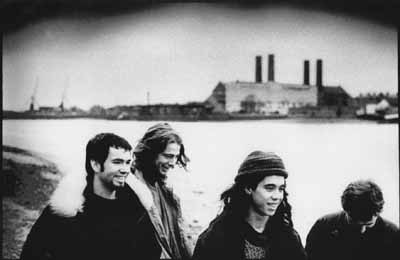 ALBUM REVIEW:


(from allmusic.com
by Jason Ankeny)
A masterpiece of unrivalled beauty and complexity, Bark Psychosis'
Hex
channels the experimentation of the group's prior singles into a more controlled setting; a series of atmospheric set pieces, the songs find a common ground between accepted musical formulas and avant innovation -- at first glance, tracks like "Big Shot" and "Eyes & Smiles" appear tightly structured, yet they avoid the dynamics of conventional songcraft like choruses and solos with remarkable dexterity. Similarly, both "The Loom" and "Fingerspit" are too melodic and finely honed to pass as mere ambient soundscapes, leaving the record best ascribed to a force not unlike alchemy --
Hex
begins with base musical materials, but transforms them into something mysterious, haunting, and breathtakingly visionary.
DOWNLOAD