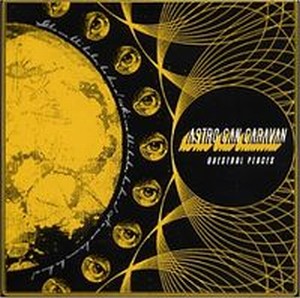 FINLAND'S BIG BAND SPACE ROCK
ARTIST`````

ASTRO CAN CARAVAN


ALBUM`````
21st CENTURY DRIFTING EPISODE



GENRE`````

BIG BAND, PSY-JAZZ, INSTRUMENTAL
, EXPERIMENTAL


YEAR````````

2005
ABOUT (FROM AURAL):
Highly experimental, with one foot solidly in the RIO camp and the other in outer space, Astro Can Caravan is an unconventional mix of large ensemble post-Sun Ra cosmic jazz, Magma-influenced Euro-fusion and Herbie Hancock/Miles Davis-styled avant-jazz funk. The 20 members of ACC (most of whom are apparently Finnish) all display a consummate musicianship and a keen awareness of the intricacies of ensemble playing throughout the ten tracks on
21st Century Drifting Episode
, and in the process virtually create a new sub-genre one might call "big band space rock."
Imagine if Sun Ra's Arkestra were composed of members of Amon Duul II and Can -
21st Century Drifting Episode
is the kind of album he would've done.
DOWNLOAD ASTRO